the world comes to us almost daily --- if only we will let it
The AVC English Department is a bit split. Some faculty live "down below" (which always sounds like a descent into Hades, doesn't it?) while some of us live out here. In my case, I live in East Palmdale with my wife, pets, mountain bikes, kayaks, and various kids and stepkids, depending which of them are passing through on migration from one life to another. Bill Vaughn lives nearby, which is a good thing, especially when I need to have more bookshelves built.
Note to our wives: see, we do too use eye protection and hearing protection. There is not even a can of beer in sight! Not only does my house have good, sturdy bookcases (lots and lots of them), but some of the windows are custom-made stained glass panels, courtesy of ace designer and all-around artist Nicelle Davis.
In the backyard is a stone sculpture that not only quotes Stonehenge in England but alludes visually to the "standing stone" monuments found all over Northern Europe. It's made from limestone slabs that originally were gate posts and fence posts in Kansas, and they each have embedded in them hand-forged iron nails and lots of fossils. My wife calls this art piece "Hoodhenge." The tallest pillars are eight feet high.
It seems to me a good life, especially one built on a teacher's salary. In contrast, when I am in L.A. at art events I often am asked where I live, and when I say the Antelope Valley, there's a general note of condescension, even pity. I am either looked at like somebody who likes to have marital relations with sheep or else as some tragic artist, sent into exile for some unspeakable misdeed. The comparison here is to Ovid, on the three greatest poets of Ancient Rome, who in some way got on the wrong side of Caesar Augustus and got himself sent into exile to a port on the Black Sea, the same body of water on which one finds present-day Sochi. (We hope that Ovid's hotel at least had a roof.)
The thing about the Antelope Valley that few people realize is how connected we can be to the rest of Los Angeles, and indeed, to the rest of the world, if only we take the effort.
Coming up later this month are several things that prove this. In a previous post we interviewed Rachel Jennings and her thoughts on
Romeo and Juliet
. That production is still running. Meanwhile, from the Royal Opera House in London comes a classic version of
Swan Lake
. I am on the mailing list for the Royal Opera House simply to feel a mild connection with London, my favorite city in the world. I do wish I could go back more often than I do. Yet here it is, coming to us.
From their email:
The Royal Opera House's magical production of Swan Lake was created for The Royal Ballet in 1987 by Anthony Dowell. Zenaida Yanowsky and American dancer Nehemiah Kish take the lead roles in what is surely the greatest of all Romantic ballets. In this timeless tale of good vs evil, Prince Siegfried chances upon a flock of swans while out hunting. When one of the swans turns into a beautiful woman he is instantly captivated, but will his love prove strong enough to break the evil spell that she is under?
Don't miss this dazzling production in select US cinemas for one night only.
It is going to play at the local Cinemarks. Also coming soon to Cinemark is the theatrical version of
War Horse
, which is about 1000% better than the movie.
Want something more immediate and "in person"? One of the Canon Masters of Light is due to come visit us, on 25 February. Here is a bio:
Workshop: Lewis Kemper,

Feb. 25 2014
Lancaster Photography Association presents:
Lewis Kemper, Sponsored by Canon USA


February 25th, 2014, 6pm to 8pm

at the Antelope Valley Senior Center
777 W. Jackman St., Lancaster, Ca. 93534
Lewis Kemper has been photographing the natural beauty of North America, and its parklands for over 30 years. During his extensive travels, he has been to 47 states from Alaska to Florida. His work has been exhibited and published in magazines, books, and calendars worldwide.
Before moving west, he received a BA in Fine Art Photography from the George Washington University in 1976. The grandeur of the west beckoned and Lewis moved to Yosemite National Park, where he lived for 11 years. From 1978 until 1980, he worked at The Ansel Adams Gallery. Working at the gallery gave him the opportunity to meet, observe and learn from some of the greatest photographers of our time. "The experience of working at The Ansel Adams Gallery was very influential in my development as a photographer," he states.
Lewis photographs in color using Canon digital cameras and 4 x 5 cameras. His work has been sold for editorial and commercial uses in over 16 different countries ranging from national ads to book covers.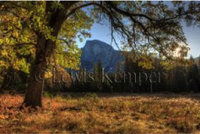 Kemper's photographs are in many private collections as well as in the permanent collection of the Baltimore Museum of Art and Kaiser Permanente. His work has been shown nationally in galleries and museums.
His work has been published in numerous books including publications by The Sierra Club, The National Geographic Society, Little and Brown, APA Insight Guides, Prentice Hall, and Hyperion Books.
Workshop topics
Light, Color and Composition: Tips to Improve your Photographs!
Compose more varied and effective image

Expand your ability to "see" images

Learn how to think about the direction and characteristics of light

Use color just as you can use lines, shape and form enhance your compositions

Grasp the concept of the color wheel and how to usecolor relationships deliberately to build vibrant images

Give a distinctive feel to your images based on Cool tones with a Warm Accent; Warm tones with Cool Accent; Pastels, Saturated Color; Monochromatic Color, and the paradoxical No, Color, Color

Master composition fundamentals including the Rule of Thirds, Leading Lines, Repeated Patterns, Horizontal vs Vertical, and Horizon placement

Simplify your images and emphasize the important elements of the composition
Both of these events are on nights when I am working with writing students in my English 097 class. If I adjust the syllabus a bit, we can have a field trip to one or the other events, but not both. It is going to be a tough decision to make! A dance program offers great cultural literacy and the analogy of text-as-movement, while Mr. Kemper will talk about composition, framing, and visual structure, all of which also translate directly into skills we cover in a writing class. It's a tough split indeed.
Although I for one think many of us could get down to L.A. more than we do, it's also true, the world comes to us all the time. As William Mulholland said when the L.A. Aqueduct was turned on for the first time in 1913, "There it is. Take it."
+++++++
The AVC Blog is curated by Language Arts member Charles Hood. He can be reached at chood@avc.edu. This blog does not represent an endorsement of these events by the campus as a whole, the Board of Trustees, or the Antelope Valley College District. Further, if you put large stone slabs upright in your backyard, be sure to anchor them securely. After all, this is earthquake country.